HAPPY EVENTS & BEACH VIEW CLUB




Presents
Jashn-e-Bhaara (Basant Mela & Concert)
Enjoy the Cheers & Charms of Basant, Come Fly With Us, Enjoy the Colors of Spring with Lots of Entertainment with Your Family! Let the Beat Take Complete Control of Your Weekend.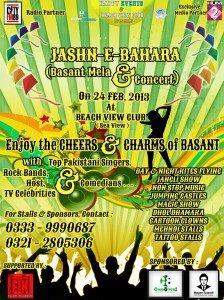 BASANT MELA – CONCERT – FAMILY FESTIVAL
Date: Febraury 24, 2013
Venue: Beach View Club, Seaview,
Timing: 12:00pm to 12:00am
DHOL DHAMAKA, KITES FLYING, TATTOO STALLS, FLOWERS & YELLOW GARLANDS STALLS, JUMPING CASTLES, DHOL DHAMAAL, ENTERTAINER, MAGICIAN, COMEDIAN, FACE PAINTER, MAGIC SHOW, CARTOON CHARACTER, SLIDING, PUPPET SHOW, JANGLI SHOW, MEHNDI STALLS, CANDY FLOSS/POPCORN, KIDZ ZONE & MANY MANY MORE…
For Stalls & Sponsors Contact:
0321-2166001
Event Supported by:
www.eventsinkarachi.com
www.fb.com/events.in.karachi 
All Rights of Admission are Reserved with the Management.