V SERVE U Welfare Society
Presenting
Importance Of Independence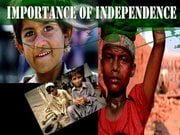 To literate people about the importance of independence and create awareness in them about social and moral responsibilities toward our beloved country and its countryman.
Rally will starts at 4:00 PM from V SERVE U office and move towards and stay on the following locations:

Numaish Signal, Bahadurabad roundabout, & Expo Centre
Around 200 food bags including dates, banana, roll and juice along with Pakistani Flag will be distributed amongst needy & poor people during the rally.
More than 50 volunteers will be managing the event throughout.
National songs will be played and Bands will give live performance.
If anybody wants to be part of this event so come and join us.
REMEMBER!
If someone is poor its not his fault, its our fault.
To being a good citizen it is also our responsibility to take some prompt step for this good cause.
for further details contact us:
Javaria Akhtar: +92-306-2834915
Waqas Jamal:+92-332-2262445