Join us at Faraar Gallery, T2F on the first Friday of the year; for an open mic night featuring Karachi's emerging talent!
T2F's First Fridays Open Mic is a platform for musicians, poets, and comedians to perform, improvise and experiment in an informal setting.
Performers do not need to pre-register. Just show up with your voice, instruments, props or whatever else you may need to get perform. Look for our host who will put your name down on the list – spaces are limited, so first come, first served!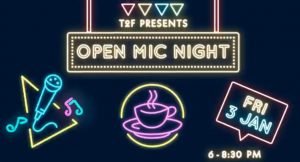 Date: Friday, 3rd January 2020
Place: Faraar Gallery, T2F
Time: 06:00 PM – 08:30 PM
Free, donations much appreciated!