Vital Production & Jex Marketing Presents
EVENTAINMENT 2012
is all about fun and masti of whole day.So FOOTBALL lovers get ready , MUSIC lovers get ready as a big event is on your way.GRAB your passes before its too late.
***SCREENING of FOOTBALL MATCH***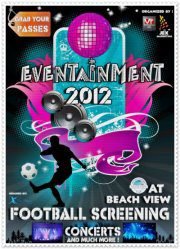 ***CONCERT***
***HArdcore BBOYING by Unknown B.BOYS crew***
https://www.facebook.com/UNKNOWN.UC
***A GRAND MELA/festival***
AND MANY MORE…
…ALL masti and fun is in " "350 rupees just" "….
………………"QUALITY ENVIRONMENT IS OUR PROMISE"…………………
Tight security is our main concern in order to maintain a good environment for all attendies.The target audience of this event is A+ and A
More Ad ups :
Complete media coverage will be provided through 5 different channel all around the clock!!!
> Special VVIPs Guests
> Musical Band Performances
> Happy Discounted Hour
> Give Aways
> Lucky Draws on Purchases
> Talent Appraisal
> Special Stunts
and much more…
For more details or passes Contact
0333-3276871 Humayun Tahir for area near Joher
0334-3645080 Rahyl for area near GulBerg
0331-3712588 Irfan for area near North Nazimabad
0345-2123508 Rakhshan for area near Shahrae faisal and Bahdurabad
0336-2348138 Abubaker for area near Airport (Malir)
0334-2588394 Imran for area near DHA/Clifton
0346-3318935 Razzaq for area near Saddar, Garden, PIB, Site.
0345-3188044 Minhas for area near Gulshan
0333-3009024 Ahsan shakeel for gulshan, johar and adjacent areas
Its A Night To Remember ,come along with families and freinds to encounter this great evening and back to back entertainment
For Stalls/Standies and Bookings Contact
0333-3276871 Humayun Tahir
0334-2588394 Imran
Subsidiaries of Pandora Group
https://www.facebook.com/VII.Skies
Website Link :
www.jexmarketing.com
https://www.facebook.com/VitalProductions.KHI
https://www.facebook.com/jexmarketing