Three Days Exhibition + Fashion Show is being organized by World Linkers at Pearl Continental Hotel (PC).
Brief introduction of the Exhibition: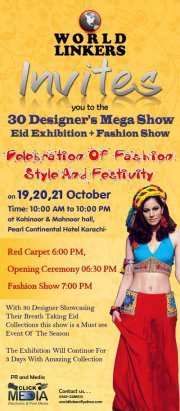 This mega event will not only showcase the Fashion Trends of the industry but also provide an opportunity to the upcoming names in the market to present their talent and connect with the public. There is a lot of variety for the potential buyers such as different cuts of bridal wear, formal n semi-formal wear, party wear, & accessories. These all one can get under one roof.
Models will be seen on RAMP wearing the designers wear on the occasion.
Dates: 19th, 20th & 21st October
Venue: Pearl Continental Hotel at Kohinoor & Mahnoor Hall
Timings: 10 AM to 10 PM ( for 3 days)
Looking forward to see you all at the venue………
It is a must watch show……..
Thank You.
For registration & details contact:
0323-3360698 (Ms. Nazish Aimon) Event Director.
0345-2288513 (Mr. Umar Shah) Event Manager