Hello Karachi!
Lets unite for the largest environmental official event "Earth hour 2014" & make the difference visible for a Better World!!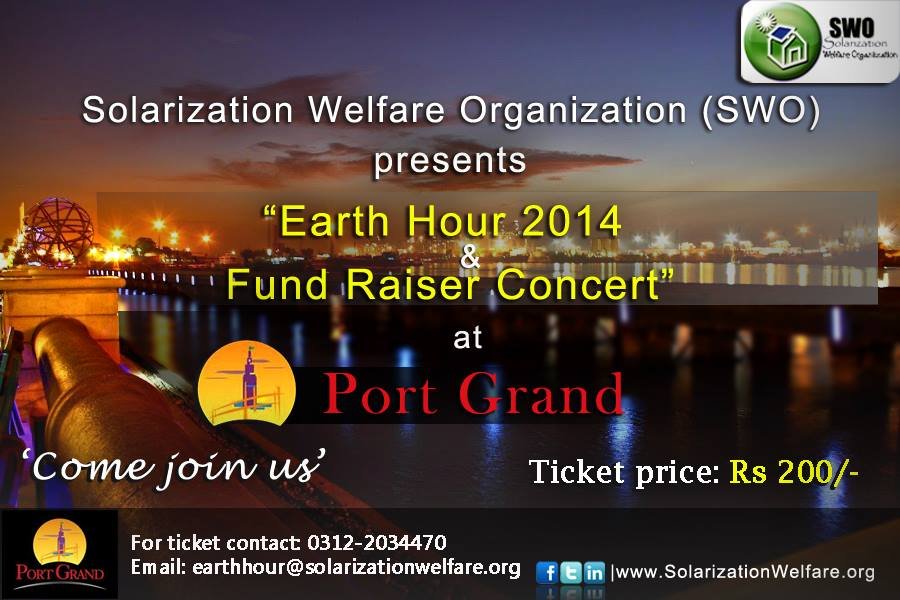 Since2012 Solarization Welfare Organization(SWO) has played its role to stop the degradation of the Earth's natural environment and to build a future where people live in harmony with nature by celebrating and organising EARTH HOUR.
So get ready for this year's MEGA EVENT!
#SWO Proudly Presents #EarthHour2014 & Fund Raiser Concert at Port Grand on 29 March 2014.
Join us with your friends & family to show soldiery with your mother land & nature.
– Concert
– Sky Lanterns
– Fireworks
– Fire Dance
– Magic show and a lot more in store for you.
If you want tickets at your university campus so kindly contact:
– Dawood University – 03327854521
– University of Karachi – 03022411146, 03012846869
– UIT – 03312542651
– Iqra north campus 03442231267
– CBM 03472447717
– IU main 03312303654, 03458225121
– Hamdard 03412781673
and if you are not in any of these universities, kindly
Contact: 03122034470
Don't miss a mega event of Karachi
For more details Please contact
Email: Earthhour@SolarizationWelfare.org
Things to know:
– No free entry on university Cards will be allowed
– stags will be only allowed on University cards.
– Free valet Parking will be avaible
Join us and Spread the word 🙂
Date: 29th March 2014
Venue: Port Grand – Karachi
Collaborative Partners
World Wide Fund(WWF)
http://www.wwfpak.org/earthhour