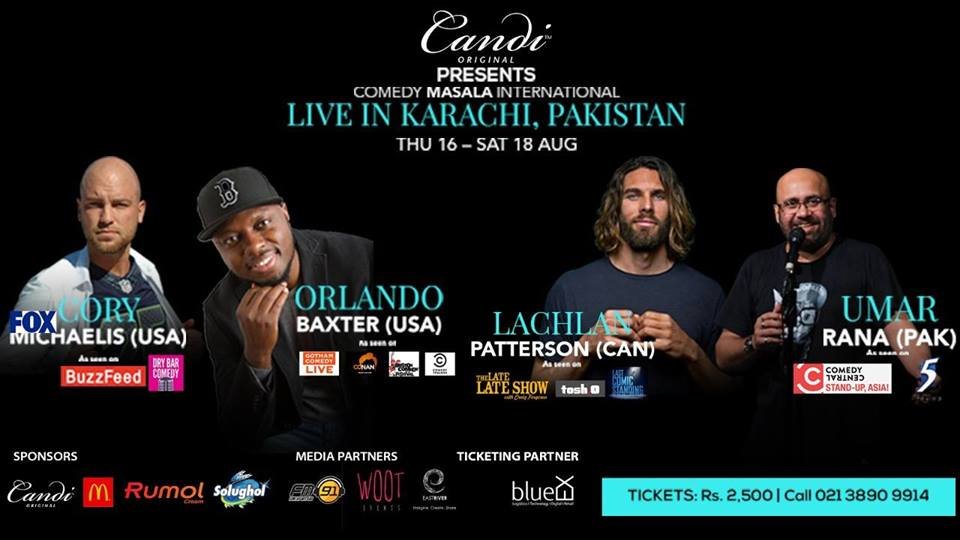 Pakistan's No. 1 International Stand-Up Comedy Show is BACK this August!
______________________
We've got a brand-new line up, and will continue to bring some of the world's funniest comedians to Karachi! Once again, it's a wickedly funny line up. We've got CORY MICHAELIS coming, and his videos have recently been going viral. ORLANDO BAXTER is another hot draw in the USA circuit, and his appearance on CONAN last year drew many favorable reviews. LACHLAN PATTERSON, from 'Last Comic Standing' and FOX'S 'Punchlines' completes the line-up. All comedians are in HOT form and will rock Karachi in Aug.
Start inviting your friends and spreading the word about Comedy Masala International happening from 16 – 18 Aug!
Cheers xx
UMAR
~~TICKETING INFO~~
There are FOUR shows to choose from –
Thu 16 Aug: 9.30pm
Fri 17 Aug: 9.30pm
Sat 18 Aug: 7.30pm & 9.30pm
Rs. 2,500* per show (free delivery)
CALL: 021 – 3890 9914
NOTES:
-Tickets MUST be purchased in advance. Self-collection from venue is not allowed.
-MATURE AUDIENCE ONLY. Children under 16 will not be admitted**
______________________________
HERE'S THE AUGUST LINE-UP:
**All 4 shows will feature the same line-up**
1. ORLANDO BAXTER (USA)
As seen on CONAN O'BRIEN, BBC, AXSTV, ABC, GOTHAM COMEDY LIVE
Orlando Baxter exploded onto the Boston comedy scene in 2005. His fresh perspective and unique relatability soon made this former high school teacher a fan favourite and led to a string of positions in all over the world including NBC's 'Stand Up for Diversity', Boston Comedy Festival, Montreux Comedy Festival, Johannesburg International Comedy Festival, Edinburgh Fringe Festival, Turku Comedy Festival, and the Melbourne Comedy Festival. Orlando currently tours across the country performing at clubs and colleges at home and overseas, and when he's not doing his own thing, you can catch him on the road opening for Whitney Cummings and Jo Koy. In 2016, Orlando made his late night TV debut on the Conan show on TBS.
2. LACHLAN PATTERSON (USA)
As seen on THE LATE LATE SHOW WITH CRAIG FERGUSON, COMEDY CENTRAL, TOSH.O, LAST COMIC STANDING
Mixing a dry sarcasm with his biting commentary on life, Lachlan Patterson has achieved major success as a Stand-up Comedian, Writer, and Comedic Actor. Since finishing as Runner Up on NBC's Last Comic Standing, Lachlan has become a regular guest on FOX's comedy PUNCHLINE and a special guest on FX's LEGIT and Comedy Central's TOSH.O. Check out his 1-Hour Comedy Special "LIVE FROM VENICE BEACH" on the STARZ® Network or check him from his performances on THE TONIGHT SHOW and THE LATE LATE SHOW.
3. CORY MICHAELIS (USA)
As seen on FOX, BUZZFEED, DRY BAR COMEDY
According to a bunch of girls he's dated, Cory Michaelis will shock you with some of the things he says but do it in a way that you'll still find him charming. He talks about his high school sweetheart and former wife, his new girlfriends, and his unique day job and co-workers in a way that he wouldn't want any of them to hear. Cory just recorded his first comedy special "Collage Graduate" – 40 minutes of squeaky clean material – in Provo, Utah at Dry Bar Comedy. He is a regular in all of the clubs in the Pacific Northwest, Brad Garrett's Comedy Club at the MGM Grand Casino in Las Vegas, and headlines comedy clubs, colleges, and weird bars all over the country.
4. UMAR RANA (PAK)
As seen on COMEDY CENTRAL PRESENTS 'STAND-UP ASIA' & CH.5 SINGAPORE
"no-holds-barred jokes"
– TIME OUT, SINGAPORE
Umar is the founder of Comedy Masala. In July 2016, Umar made his TV debut on "Comedy Central Asia presents Stand-up Asia!", and in 2013 Umar was listed in the Top 10 comedians in Asia by Top 10 Magazine, Malaysia. Umar has been doing comedy since 2001, in both improv and stand-up. He was one of the founding members of Black Fish, Pakistan's first & highly acclaimed English-Speaking Improv Comedy Troupe. He's performed live in Singapore, New Zealand, HK, Malaysia, Sri Lanka, Indonesia & Pakistan. He was the official opening act for BILL BURR in Singapore, and has hosted and opened for Hollywood comedian Rob Schneider. Umar is also the Resident Host at Singapore's most popular weekly comedy night, Comedy Masala.
BOOK YOUR SEATS EARLY!
____________________________________
WHAT THE MEDIA SAYS:
"Top 10 comedy Nights in the World"
TRAVELLER, AUSTRALIA
"widly popular"
TRAVELFISH.ORG
"One of the finest and most hilarious weekly stand-up shows in Singapore"
COMESINGAPORE.COM
"the hottest comedy night…it has seen famous stand-up comics from all over the world gracing the stage"
THEHONEYCOMBERS.COM
ABOUT COMEDY MASALA:
Comedy Masala is Singapore's biggest & most popular stand-up comedy night, with over 475+ shows produced over 8 years. Comedy Masala International launched in Pakistan to massive success in 2017, and has now put on 40 shows since Feb 2017. Comedy Masala has cemented its place in Pakistan's history as being the first regular international stand-up comedy show. Comedy Masala Singapore also holds the No. 1 rank in SE Asia, and was listed as the Top 10 comedy nights in the world (TRAVELER, AUSTRALIA). Comedy Masala Singapore was also featured on COMEDY CENTRAL ASIA.
Dates:
16 – 18 August 2018
Time:
Thu 16 Aug: 9.30pm
Fri 17 Aug: 9.30pm
Sat 18 Aug: 7.30pm & 9.30pm
**PLEASE NOTE**
– The show is in ENGLISH only.
– WARNING: Mature audience only. Strong language & adult content.
– Each show features the SAME line up (Orlando Baxter, Lachlan Patterson, Cory Michaelis & Umar Rana)
– Running time: 100mins (no break).
– Guests are requested to reach the venue 15mins before the start.
– No food & drinks are allowed inside the venue.
– Private security guards are NOT allowed inside the venue.
– Photography / videography is NOT allowed during the show.
NOTE:
For Attendees:
Events in Karachi does not take any responsibility for Postponing, cancelling or any mishap during the above event. The Above Content is copied from Facebook Events or is shared by User Request.

For Organizers:
We can only remove the above Note, as organizers show receipt of bookings or NOC to the website management.
You can take down the post by request to website management.
Any changes in Content will also be entertained by the website management.

Regards,
Team EiK