This is to present to you the COLOURS OF A WOMAN –WEDDING EXPO 2017, being organized by Red Sapphire – An Event Management Company and its sister concern Activity Club.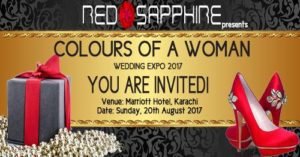 This company is being headed by a woman entrepreneur, with a mission to promote and work for the uplifting of other entrepreneurs specially women and home based small enterprises.
If you are interested in increasing your product visibility and clientele, so here's the perfect platform for you. We will provide you the opportunity to showcase your products or services and standout in the fast growing market as a BRAND. Reserve your spots at your earliest.
Schedule of Activities:
Event Tmings: 10:00 am to 10:00 pm
Couples Fashion Walk: 5:00 pm
Red Carpet: 6:30 pm
Awards Ceremony: 8:00 pm
Photo Session: 9:00 pm
Program Includes:
– Lucky Draw (On Going Segment)
– Competitions (On Going Segment)
– Celebrity Appearances
– Brand Activities
– Award Ceremony
– Special Gifts for 2017 Couples (Married this year)
Categories : (Everything other than food)
• Clothing
• Accessories
• Footwear
• Home Style & Decor
• Beauty Products
• Caterers and Planners
• Florists & Printers
• Households & Appliances
Etc…etc
We would love to hear from you to discuss different options of participation such as SPONSORSHIP, PARTNERSHIP, STALL BOOKING, PHOTOGRAPHY, VIDEO-GRAPHY, VOLUNTEERING etc.
We are very much willing to bring change in Pakistan and projects its brighter image to the rest of the world. We are aiming at earning with pride and passion. We are hopeful that we will be appreciated and supported by all the exhibitors and the pretegious guests as well. In Sha'a Allah.
Cheif Organizer's Contact Details:
Email: red_sapphire.events@yahoo.com
Whatsapp: 0336-2384724
Regards,
Organizing Team,
Red Sapphire – An Event Management Company
NOTE:
For Attendees:
Events in Karachi does not take any responsibility for Postponing, cancelling or any mishap during the above event. The Above Content is copied from Facebook Events or is shared by User Request.

For Organizers:
We can only remove the above Note, as organizers show receipt of bookings or NOC to the website management.
You can take down the post by request to website management.
Any changes in Content will also be entertained by the website management.

Regards,
Team EiK