CEO SUMMIT Karachi by Manager Today Magazine
Thursday, November 08th, 2012 | Marriot Hotel, Karachi
Conference Theme: "Growth in Testing Times: Challenges & Opportunities"
Dear Colleagues !
The pressure is on the private sector to deliver growth and create jobs. The next 2-3 years will be imperative. Getting the conditions right for the business, investment, high-growth, private- public partnership, family owned-business, and government's new strategy for growth, new economic agenda, innovation, environmental sustainability, foreign investment and exports could make all the difference. At 3rd International CEO Summit 2012 by Manager Today, we will be looking for the answers to the present business challenges. Join us and make sure you have your say. Now is the right time to stand and speak up.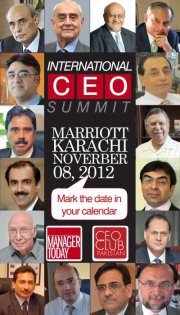 Themes of CEO Summit 2012
1. The path to prosperity: Opportunities of Business Growth in Pakistan (CEO's Panel Discussion)
2. Entrepreneurship: Future of Pakistan
3. Role of visionary Leadership in Economic Growth
4. Developing Human Capital as Strategic Investment
5. Corporate Governance for Growth – New Economic Agenda & Business Success
6. Developing Public – Private Partnership to Boost Economic Development
7. What does 'Growth' mean for: A new enterprise, A family business & A multinational
8. The tough questions: Growing where? Growing how? Growing through people Engagement First!
9. Growing with money: Getting the best bang from your buck!
7 Good Reasons to Attend
1. Chairmen, CEOs & Presidents as Presenters
2. Top Entrepreneurs as Speakers
3. CEO's Panel Discussions
4. CEO of the year Award
5. Corporate Book Fair
6. Business Writing Competition
7. Business Networking
Objectives
1. Understanding the future vision for growth & economic dynamism 2. Developing entrepreneurs to manage joblessness 3. Discussing advantage of the business prospects 4. Exploring global markets & boosting exports 5. Easing regulatory burdens and building momentum for SMEs to prosper 6. Bridging the gap between business & academia
Conference Agenda
8.30 am Registration
9.30 am Recitation of Holy Quran
9.40 am National Anthem / Welcome Address
Sidra Iqbal – MD StatusPro – Conference Moderator
Ijaz Nisar – Founder & President, Manager Today Magazine
9.50 am Inaugural Address
Hussain Dawood – Chairman, Dawood Hercules Corporation
10.05 am Morning Keynote: Role of Visionary Leadership in Economic Growth
Yaseen Anwar – Governor, State Bank of Pakistan
10.20 am Corporate Governance for Growth – New Economic Agenda
Shaukat Tareen – Advisor, Silk Bank Ltd
10.35 am Developing Business Leaders: Recipe for Economic Growth
Atif Bajwa – President & CEO, Bank Alfalah)
10.50 am Growth in Testing Times
Asad Umar – Former President, Engro Corporation | President, PBC
11.15 am Book Launch Ceremony "100 Business Leaders of Pakistan"
11.35 am Tea & Networking Break
12.05 pm Think Tank (Addresses / Panel Discussion): The Path to Prosperity:
Opportunities of Business Growth in Pakistan
Panelists:
Dr. Ishrat Hussain Director, IBA Karachi
Rashid Mansur – CEO, JS Investments
Sirajuddin Aziz – President, Habib Metropolitan Bank
Masood Hashmi – CEO, Orient | President, Marketing Association of Pakistan
Javed Jabbar – CEO, JJ Media
Imran Aslam – President GEO TV
Sarfaraz Rehman – Former CEO, Engro Foods | CEO, Dawood Foundation
Moderator: Sidra Iqbal – MD, StatusPro
Question & Answer Session / Presentation of Mementos
01.30 pm Lunch Break & Prayer Time
02.30 pm Energizing session: Shireen Naqvi – CEO School of Leadership
3.00 pm CEO Talk – Panel Discussion: The Tough Questions: Growing Where?
Rafiq Rangoonwala – CEO, KFC Cupola Pakistan
Aftab Tapal – Chairman, Tapal Tea Ltd.
Irfan Siddique – President & CEO, Meezan Bank Ltd
Dr. Amjad Saqib – Executive Director, Akhuwat
Khalid Awan – CEO, TCS
Moderator: Uzma Bashir Ghaus, CEO Engage HR
Question & Answer Session / Presentation of Mementos
04.10 pm Entrepreneurship: A Recipe of Economic Prosperity
Khalid Mahmood – CEO & MD, Getz Pharma
Duraid Quershi / Sultana Appa – HUM TV
Saadia Naveed – Dy. Managing Director, English Biscuits
Moderator: Raheela Narejo – CEO, NHR
Question & Answer Session / Presentation of Mementos
05.10 pm Closing Ceremony
*(Organizers reserve the right to change the above schedule)
Fee & Registration
Rs. 8500 per participant for corporate sector
Rs. 4000 per Regular Student/Faculty for Academia
(include business networking, lunch, refreshment breaks, conference kit, musical entertainment and participation certificate)
Your Participation will be confirmed upon receipt of payment. All cheques and drafts are to be made in favor of "Manager Today". Refunds will not be made, however a substitute may attend
Organizers reserve the right to alter the program.
For Further Details, Please visit below links:
http://www.facebook.com/events/416819865048172/?fref=ts
http://www.managertoday.pk/
For Registration
Register Here: http://goo.gl/YRlVa
-or-
Haseeb Nisar 0300 816 7229 | 0423 579 2066
Tabish Karachi 0345 317 9646 l 0300 844 5208 | 0300 883 8428
For Students registration: Ms Ayesha Head of Volunteers 03028220351 Karachi
Email: managertoday@live.com l register@managertoday.pk
Website: www.managertoday.pk l www.ceoclub.pk
PL-27 Siddiq Trade Center Main Boulevard Gulberg Lahore.
With Regards
Ijaz Nisar