TCN is coming with CAREER JOB EXPO 2016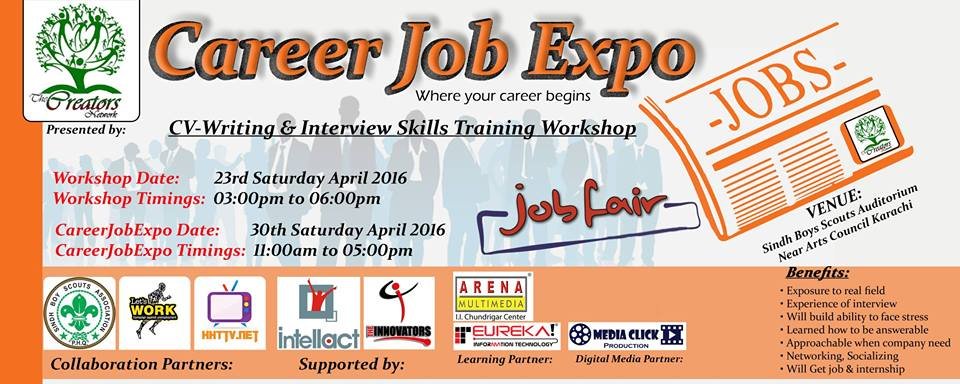 =>OBJECTIVE:
To provide an excellent opportunity for students to meet as well as to start networking with a variety of diverse Professionals and organizations and learn about real environment of competitive opportunities.
CAREER JOB EXPO 2016 focuses on sharing information between organizations and Workforce. This will be a way to explore person's career with variety of companies at one location.
=>AIMS:
CAREER JOB EXPO aims to :
*Facilitate the opportunities for our students.
*Allow students to experience real interviews.
*Stimulate students' interest in career building possibilities.
*Enhance skills of communication.
*Experience stressful environment.
*Allow networking and socializing with personals
=>TWO EVENTS:
C.V Writing Workshop
Date: April 23, 2016
CAREER JOB EXPO:
Date: April 30, 2016
Supported by:
*The Innovators
(FB.com/theinnovators)
*Intellact Consultants
(FB.com/intellactconsultants)
Industries Expert Trainers:
Mr. Muhammad Saad Masud
"Learning Cheif" Intellect Consultants
Mr. Ashoke Kumar Seejuwani
"CEO" The Innovators
Colloboration Partners:
*Lets work by HHT
www.letswork.pk
*HHTTV.Net
*Sindh Boys Scout Association
REGISTRATION PROCESS :
Bring with you CNIC/B.Form Photocopy
WORKSHOP + JOB FAIR = Rs.150/-
FOR ONLY
C.V Writing Workshop = Rs.100/-
CAREER JOB EXPO 2016. = Rs.100/-
Office Address:
F-13, 4th Floor Honey Palace, SB-3 Block-13 Opp. Bait-Ul-Mukkaram Masjid,Gulshan-e-Iqbal, Karachi, Karachi
Days: Monday to Saturday
Timings: 11am to 1pm & 3pm to 6pm
Certificates will be provided to attenders !!!
For registration or any query call now on 03453369396
OR
Inbox your response on this e-mail address askme.tcn@gmail.com – shaheryar.trainer@gmail.com
Sponsors – jobs companies may contact for stall…. Limited space available….
█║▌│█│║▌║││█║▌║▌║█║▌║▌
NOTE:
For Attendees:
Events in Karachi does not take any responsibility for Postponing, cancelling or any mishap during the above event. The Above Content is copied from Facebook Events or is shared by User Request.

For Organizers:
We can only remove the above Note, as organizers show receipt of bookings or NOC to the website management.
You can take down the post by request to website management.
Any changes in Content will also be entertained by the website management.

Regards,
Team EiK