THE STUDENTS OF THE EVENT MANAGEMENT BATCH FROM INDUS VALLEY SCHOOL (CEP) IS HERE WITH AN ULTIMATE CRICKET EXPERIENCE!!!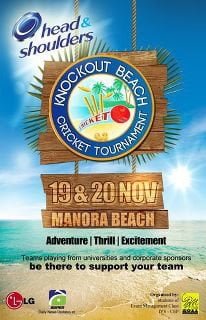 After the hectic routine of your work n studies we are here with an amazing experience for you to enjoy!! with a cricket match series on the beautiful beach of manora.. not enough?? we have more for you. a you.. HOW ABOUT A MATCH BETWEEN IBA AND SZABIST??? OR GREENWICH N INUDS VALLEY???? APTECH? BAHRIA??
U CAN NOT GET ENOUGH OF THE FUN IN THE TWO DAYS OF FULL ENTERTAINMENT HAVING THE CHNACE TO MEET UP WITH THE CORPORATE WORLD AS WEL!!
– security by navy
– an interesting match series among 16 teams
– coverage by GEO SUPER
– some scrumptious food at the food stalls
– winning and runners up prizes for the teams
so come and join us on 19th and 20th of November 2011. we will give u the most enjoyable experience.
TRANSPORTATION: By boat from kemari or by road.
TICKET PRICES: RS 200 FOR ONE DAY AND 300 FOR BOTH THE DAYS.
FOR FURTHER INFORMATION AND TICKET DETAILS CONTACT: 03323027493, 03218770646.