Hello guys and girls! SZABIST Adventure Society is back with a bang to knock your socks off and I mean literally knock them off with one of its most exhilarating, heart stopping, and action packed event to date! You guessed it, the AMAZING RACE is back and this time it's got new thrills and mystery to it. Excited? Well you should be!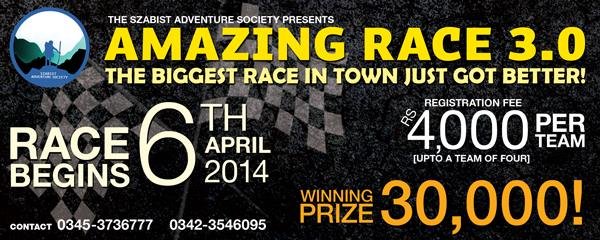 SZABIST Adventure Society holds the position for organizing the best event under the flagship of Amazing Race two years running, and is an anticipated event all year round!
The Race begins on 6th April 2014, so gear up your engines as you drive around Karachi, gather clues, solve puzzles and race to the finish line for that oh so glorious prize. The race is divided into 20 designated locations (Clifton and Defence). Each participating team will receive a clue in the beginning of the race which contains a cryptic riddle that may directly identify the designated location. After reaching the location, the teams must complete the given tasks before they can receive their next clue. The team first to arrive at the final destination WINS Rs.30,000 Cash Price!
All school, college and university students can participate in the race. There can be up to 4 members per team; registration fee per team is Rs.4000. The last date to register your team is 30th March 2014, so what are you waiting for?
Sign up today and experience the most exhilarating and fun packed experience of your life.
For registrations and further information contact:
Vijay Wadwani 0345-3736777
Daniyal Akhtar 0342-3546095