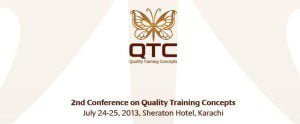 After the success of first QTC Conference,
Netmasters is pleased to announce 2nd QTC on 24 & 25 July, 2013
at Karachi. The event has specific and focused objectives
given here:
• To highlight the critical success factors for quality training programs.
• To share the success stories of clients who have achieved excellence in imparting quality training.
• To encourage training professionals to further enhance their quest for quality in all aspects of trainings by giving them QTC Achievement Awards.
• To enlighten the participants with the prevailing practices and innovations in L & D departments of corporate sector.
• To create an opportunity to bringtraining providers, trainers, training organizers, corporate L & D Heads to network and exchange ideas on how to achieve quality training programs.
Methodology:
The methodology of the conference will be to highlight the important factors to impart
quality training. This event brings interaction between speakers and participants to give
food for thought, how to deliver quality training programs. Detailed content of the
conference will be distributed in form of hard and soft copies. After every session, there will
be a quiz question with a prize in order to maintain high attention and interaction.
Interesting documentaries and comical learning pranks will be added to create more
interest in the learning activity. All the speakers are explicitly requested to share their
knowledge and experience focused on the theme of the conference.
Value for Time and Money:
QTC commits the following to its participants:
• 16 – 20 intellectual speakers sharing their experiences and expertise with the participants.
• QTC Awards with the firm commitment to appreciate deserving individuals on merit.Learning with appropriate interesting formats
• Value for money in the form of exciting learning over two days, solid networking opportunity, a sumptuous Iftar dinner on each day, and branded event giveaways along with a number of lucky draws throughout the event
Conference Initiatives:
• 1st Quality Standard for Certified Trainer on a
subject or course QTC 201301T
• 2nd Quality Standard for Certified Course for
Compliance on Quality Standards 2013C
• Certification Body to Certify Trainers and Courses
with QTC Standards
• Launch of QTc PORTAL AND RESOURCE CENTER
• Trainers and Training Managers QTC Club
• Standard Training Planner for Training Managers
• Training Management Workbook on Excel
• Launching Trainers and Training Providers Directory
• Launching QTC Club for Social Activities
• QTC Achievement and Recognition Awards:
• Life Time Achievement Award
• Recognition of Services Awards
• Contribution to Quality Achievement in L & D
• Industry
• Role Model of Character and Professionalism in
• L & D Industry
Tariff & Timelines for Registration:
Following is the tariff for conference registration:
• Single registration
PKR12,000
• Ambassador Table of 6 persons with organization flag
PKR 50,000
• Freelance Trainer not working with any organization
PKR 10,000
Audience:
Learning and Development
Corporate Professionals
Trainers
Training Organizers
HR Professionals