KARACHI: The holy month of Ramadan (Ramazan) is set to begin from Tuesday as Ramadan Moon has been sighted by the Ruyat-e-Hilal Committee and Meteorological Department.
The Met department said that the moon was visible in most parts of the country especially in Sindh and Balochistan.
The meetings of the central and zonal committees of Ruyat-e Hilal Committee in Islamabad and four capitals of the provinces took place today (Monday) evening.
Mufti Muneeb-ur Rehman, the chairman of the Ruyat-e Hilal Committee, chaired the committee meeting held in the met office after Asr prayer.
Ramzan Moon cotroversy:
As usual once again Ramzan Moon sighting controversy has taken place in the province of Khyber Pakhtunkhwa.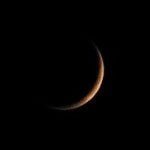 Khyber and Mohmand Agencies have already started Ramzan by observing first fast today while another third committee has also emerged in some areas of the north-western province after 6 witness. Among the earlier two committees are included Zonal Ruat-e-Hilal Committee and Local Committee.
After the emergence of third committee it seems that the start of Ramzan fast will not be clear and various areas of Khyber Pakhtunkhwa will start Ramadan fasts on different days as two agencies have already started to observe fast from today.