Pakistan's Largest international and domestic Airport "Jinnah International Airport". It is situated in Sindh's capital city Karachi. This was named after the founder and the first Governor General of Pakistan Qaid-e-Azam Mohammad Ali Jinnah.
Jinnah International Airport has capacity for 12 million passengers. It is the primary hub for Pakistan International Airline PIA. Other Pakistani airlines also used this airport as their primary hub. i.e: Airblue, Shaheen Air Internatinal and many other private airlines. This building is actually linked through corridors to two satellites, Eastern & Western. Eastern satellite is devoted exclusively for International operations And Western is used for domestic operation and some of the international operations as well. Each has provision of eight passengers loading bridges. and this all is achieved via flexible arrangement of gates. This also provides snacks counters and shopping facilities.
The Jinnah Terminal was completed in 1992 in 100 million US dollars as the most expensive construction project in Pakistan. . NESPAK (National Engineering Services Pakistan) and Airconsult (Frankfurt, Germany) were responsible for the architecture and planning of the terminal. Sogea Construction, a French company, was the contractor. Mukhtar Husain (NESPAK) was the Chief Architect for the new terminal.
All the first and business class passengers can use CIP lounges on all outbound flights. whereas private banking clients of MCB Bank ltd and United Bank ltd can also use this lounge as complimentary basis under the contract of CAA as part of their packages, where passengers can get satellite TV, wireless internet services, mobile charging points, light savory snacks, non-alcoholic beverages, telephone, fax facility, audio entertainment, newspapers. If other passengers wish to use this lounge can pay around Rs 100/- or USD 6 to use. there is also McDonald located on the site. Airblue has also introduced their own lounge on International Terminal of the airport.
There are several banks located here so that passengers can easily use them i.e: Askari Bank, Barclays, Citibank, Habib Bank, National Bank of Pakistan, MCB Bank, Standard Chartered Bank, and United Bank; which offer ATMs, foreign exchange facilities, traveler's cheque encashment, and personal banking. The majority of PIA maintenance is located in this airport, although some of its maintenance work also takes place at Benazir Bhutto International Airport, Rawalpindi. There are several hangars at the airport; the largest being the Ispahani Hangar (named after Mirza Ahmad Ispahani, the first chairman of PIA).
The airport has two runways measuring 3,200m and 3,400m in length. Runways, 25R/07L and 25L/07R each have a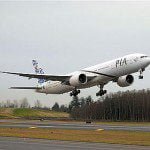 width of 46 m (250 ft). It has capacity to handle around 15 flights per hour and it accommodate simultaneous landing and take off. Runway 07L/25R is equipped with ILS to guide landing aircraft safely under very poor weather conditions and also allowing planes to land in low visibility conditions, i.e: fog. The taxiway is able to handle 12 aircraft at any moment while the parking area measures 266,000 sq meters and is able to accommodate 42 aircraft, 12 of which through air bridges linking them directly with the terminal building. In addition to this, there are remote parking bays for 30 air-crafts.
Article by: RJ ALINA