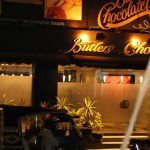 Butlers Chocolate Cafe, A world of Chocolate. Its one of Ireland's leading chocolate producing company. In 1932 Ms. Bailey butler founded this company. Ms. Bailey developed a big range of handmade chocolates. This company has created a chain of Butler's chocolate Cafes and one of this cafe is situated in Zamzama Boulevard, Karachi. An Elegant atmosphere welcoming all the chocolate lovers . It offers fine chocolates, elegantly wrapped gifts, and select menu items. Its Popular choices include chocolate truffles, pralines in milk, dark and white chocolate.
Their specialties are Hot and Cold specialty coffee, breakfast waffles, smoked salmon Opened face sandwich, roast beef baguette, croissants, muffins, scones, deserts and cakes, gifts elegantly wrapped for any occasion, baby shower and
wedding flavors, ice cream and sorbet, meditteranean panini, sandwich, salads, moctails, smoothies, and milkshakes etc.
Their are smoking and non smoking areas available in Butler's Chocolate cafe. Credit card service is available & wi-fi is also available so that u can enjoy chocolate stuff while using your laptop or internet via your phone. Every sunday we can enjoy bruch items from 7:30am to 4pm offering omolets, waffles. and eggs and more.
History of Buttler's Chocolate.
Butlers chocolates was founded in 1932 by Ms Bailey-Butler. Based in Dublin's Lad Lane. In 1959 the company was purchased by Mr. Seamus Sorensen and in 1984 the Butlers Irish Chocolates brand was born. It was named in memory of Ms. Marion Bailey-Butler. In 1989 after Five years Butlers Chocolates first retail outlet opened in Grafton Street in the heart of Dublin City Center. Since then All the outlets opened all over the Ireland. Butler's have also expanded into the U.K market with the opening of the company's first UK cafe in West-field London and now their chocolates are available all over UK's airports and wait-rose shops.
In 1998 www.butlerschocolates.com went live, enabling them to reach customers around the globe. And in that same year, Butlers Chocolate Cafe opened on Dublin's Wicklow Street. To date fourteen Butlers Chocolate Cafes have opened, including 2 franchises in New Zealand.
In 2003 Butlers Chocolates relocated to Clonshaugh, Dublin 17 and in the same year were awarded the Brand Marketing Award from Bord Bia in the Irish Food and Drink Industry Awards.
From 2006 to the present day Butlers have developed new products, launching their first organic chocolate range, dark chocolate selection, 200g Chocolate cube range, Butlers Chocolate Cafe ice cream as well as Take Home Ice Cream among others. Also in collaboration, Butlers Chocolates launched a range of chocolates with Irish Fashion designer, Orla Kiely.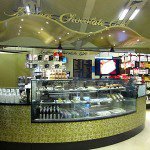 Ireland's favorite chocolatier, Butlers, opened their first chocolate café in Karachi on Thursday 16th Dec 2009. Located in Zamzama. The grand opening was organized byCatalyst PR Company. Butlers Chocolate also open its kiosk in Jinnah Airport in both domestic and international lounges in late 2009.
Butler Chocolates, now over 75 years old, is still based in Dublin and Mrs Bailey-Butler's original recipes and chocolate making techniques have been handed down to the present generation. This is all about Buttler's Chocolate Cafe. The people who love chocolate will definitely visit Buttler's Chocolate Cafe in Zamzama. And enjoy a big range of chocolate products and its specialties.
Article by: RJ ALINA