We were totally taken by the Eee pad transformers when it came out because it did something different to the iPad, and so gave itself room to breathe away from the tablet big guns.
Now its brother, the Asus Eee Pad Slider has arrived, and manages to stand out in much the same way.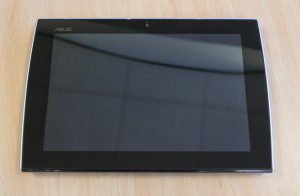 Staring at it head on, the Eee Pad Slider has a slight resemblance to the original Transformer, but upon closer inspection, they're actually very different from one another. Overall, the Asus Eee Pad Slider is essentially thicker (0.68"/17.2mm thick), heavier (33.86 oz/960 grams), and by golly a whole lot larger in every way imaginable, compared to both the Transformer and the Prime. Not afraid to hide its girth, our hands tire very easily after holding the hefty tablet for a little bit of time, but then again, that's the compromise made to pack a keyboard. It's soundly solid feeling thanks to its sturdy plastic body that's accentuated by its contrasting soft touch surfaces. Instead of boasting an in your face look, it plays it safe by sticking to a conventional design that doesn't take away from its secret surprise.There's 1GB of RAM to keep multitasking smooth, along with 16GB or 32GB of internal storage, though a microSD card slot means you can boost this. Wi-Fi is present up to 802.11n, as is Bluetooth.
By grabbing the top of it, you can pull it up, so it slides back and sits up at an angle to reveal the built-in keyboard.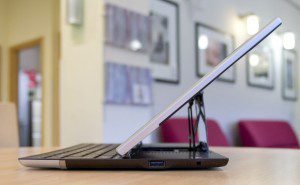 The front of the device is glossy black with a silver rim, like a lot of tablets, including the samsung galaxy tab 10.1, but the keyboard and rear case of the Eee Pad Slider are a kind of chocolate colour, with a matt finish.Honestly, it's so great to find a manufacturer taking the bull by its horn when it comes to variety amongst tablets. Asus is doing it again! Unlike the mechanics used by most QWERTY based smartphones, accessing its keyboard is accomplished by pulling the top edge of the tablet. Once the mechanism starts going, it locks firmly into a fixed position thanks to the stainless steel part holding it up, which is actually one of the gripes we find since it's only comfortable to use in a seated position with the tablet placed on a level table – as opposed to placing it on our lap. The build quality of the two halves of the Eee Pad Slider is excellent, feeling totally solid and without any noticeable give.
The weight difference really does tip it from being comfortable to hold to being just too heavy to keep in one hand for long. Between this and the slide-out function, which puts the screen at a great angle for both desk and lap use, it becomes clear that the Eee Pad Slider is less of a competitor for tablets like the iPad, and is more targeting replacing netbooks and smaller laptops.